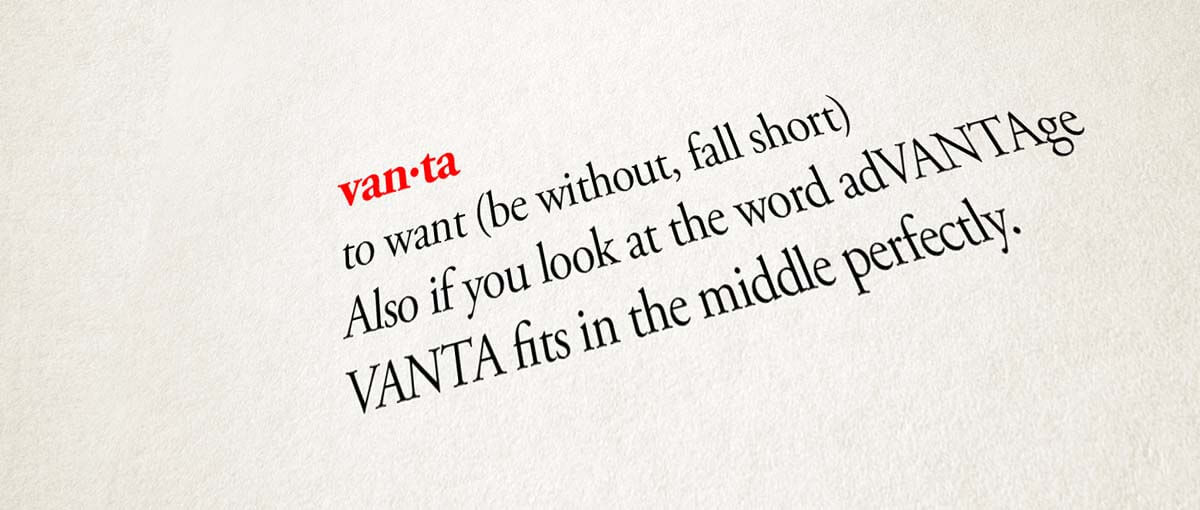 I'm constantly asked where the Vanta Staffing name came from so here you go…
I've only ever been part of naming 4 things before now, my 3 children and our dog. With children's names you think of people you know or you've known, other kids you know, old teachers, bosses and more often people you dislike. The dog I can remember us shouting all our proposed names to check how they sounded and eventually settling with a well known Disney character – think Frozen!
So when it came to naming my new business I thought it would be easy.
I was mistaken, it was probably the hardest thing of the whole set up process.
My wife and I started brainstorming names almost as soon as we'd made the decision to work with recruit ventures. We came up rather quickly with JAAC RECRUITMENT – this covered my kids and wife's initials. This was a pretty solid choice until we met with Paul Mizen at Recruit Ventures who rightly pointed out that people may not know how to say or pronounce it.
We needed a name that was unique, that would stand out, and had the grounding of a good brand, one that easily recognized, could be used nationally and more importantly remembered by candidates and clients.
We started to draw up a list of possibilities and then we'd go through a list of criteria the name had to meet. This included companies house checks to see if there was or had been a recruitment business with the same name, had been was equally important as we didn't want to be associated with a failed recruitment business. It was important to bear in mind logos and copyright, website availability, and other local companies and if the business names would clash or be too similar. All the names we came up were all in use in some way or another and just weren't right – we wanted to be unique.
At this stage we asked family members for some help and that's when we're we came up with Vanta.
Vanta was suggested by my mother-in-law. It was actually the name of an old family pet but when we started to look into the name we realised it had a lot more meaning and more importantly hadn't been used before for anything in the UK and in fact most of the world! This meant we had no problems with copyright, website, competitor names and branding. We loved it even more when we googled it and discovered some meaning for Vanta
Meaning of Vanta
Icelandic
Verb
vanta
to want (be without, fall short)
Also if you look at the word adVANTAge VANTA fits in the middle perfectly.
Vanta was our new name and with a lot of local companies using personnel we wanted to stand out so Vanta Staffing was perfect.